Discover more from America 2.0 (by Gary Sheng)
Weekly explorations of how we make "leveling up America" into a fun game everyone wants to play.
Meme Lords Deserve More Respect
Why America's Future May Depend on Terminally-Online, Digital-Native Content Creators
Being in web3 for about 1.5 years has taught me a lot.
It has taught me about the power of building modular, open-source protocols that compose well with each other.
It has taught me about the importance of tech that helps people monetize their artistic and community building abilities.
It has taught me about why it makes sense to put carbon and other ecological credits on-chain.
But of all the lessons, tied for first is the power of memes to mobilize people into movements—where in this piece I define "memes" as pieces of content (e.g. words, acronyms, phrases, symbols, tweets, captioned images, and short videos) that have the potential to be super-spreaders of ideas in the social media age.
Yes, I began to see the power of memes before my web3 days, when I observed...
Trump's 2016 campaign, where it can be argued that his victory can be meaningfully attributed to 4chan's meme-makers.

Black Lives Matter, a movement whose name itself is an extremely catchy meme.

#MeToo, a hashtag that empowered a wave of women to speak out about their experiences with sexual abuse.
But web3 really solidified for me the power of memes to create movements out of thin air.
Crypto/web3—a nascent space with one TRILLION dollars in market capitalization—would be nothing without memes.
"WAGMI" "gm" "ultra sound money" "ReFi" "DeSci" and "web3" itself. These are all memes.
The doge dog. Going to the moon. Taking the green pill. These are memes.
Funny yet informative captioned images like this one: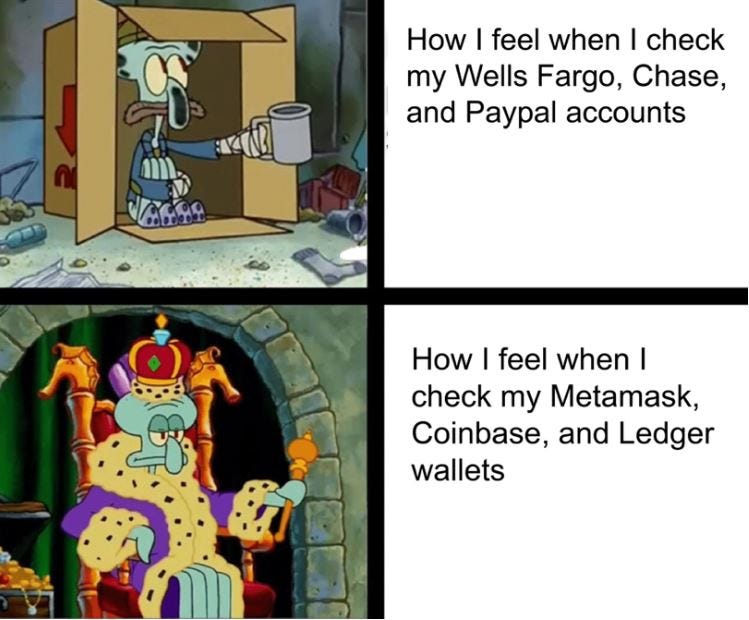 They are memes.
Web3 would be nothing without memes. And it would be nothing without meme lords, who craft the perfect delivery mechanisms for ideas that are critical to pushing the web3 space forward.
The best memes materialize movements, create cult-like communities.
So why don't we talk more about more about them?
I really loved seeing this a16z job posting last year:
The folks at a16z tend to be ahead of the game on trends that matter.
But why aren't more companies, and even governments following their lead and taking meme lords more seriously?
If you're an entrepreneur trying to drive user adoption and you can't find a way to communicate an idea of yours through viral memes, what chance does your company have of outpacing the adoption of competitors with similar product offerings who have master meme masters on their payroll?

If you're a political solutionist pushing a policy solution, and you don't use memes to build serious grassroots support for your cause, how are you going to get elected officials to take your solution seriously? Congress, for example, is overloaded with "good ideas" that are broadly supported by elected officials in both major parties, but never get a vote. It usually takes significant grassroots support to get a solution to the top of the agenda. In the social media age, memes are essential to building that support.

If you're a national government leader, and your geopolitical adversary is investing heavily in using the internet to discredit your country's legitimacy, AND the public is increasingly wary of censorship by social media companies, what choice do you have but to create the conditions in which meme masters WANT to create memes that support your country?
After all, in a world where kinetic warfare is increasingly looked down upon, the internet is the main battleground for the future.
It's time to give meme lords the credit they deserve.
A future I'd like to see?
Top universities giving scholarships to prolific meme lords—perhaps recognizing that it is in their self interest to recruit students who would know how to recruit more students.

Digital academies for activists who see it as essential to their education to learn how to create memes to build movements—there's a lot to learn from mimetic masters like Greta Thunberg who got Gen Z around the world to mimic her "Fridays For Future" climate strikes.

Governments at all levels hiring meme lords to recruit new residents—I unironically think it would be both hilarious and useful to have something like a U.S. Meme Corps. There's a precedent: the U.S. government created the Office of War Information (OWI) during World War II to recruit talented artists, filmmakers, and intellectuals to create posters and films to convince the American public to do what would ensure an Allied victory.
Will the meme lords who have the desire and talent to help manifest America 2.0 please stand up?
If this describes you, please shoot me a DM on Twitter. I'm working on something…